Alain Pelletier
TOLL FREE USA
(866)648-1154
*or SKYPE*

---
D-U-N-S# 243594327
NCAGE-L7720
---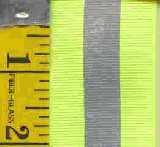 Reflective ribbon 1/2 inch reflective

---

GOVERNMENT PURCHASE CARDS
Please call 866-648-1154
Alain Pelletier

All US orders ship from Maine USA
3M Scotchlite Fabric highly reflective 1000 feet
3M Scotchlite reflective safety material


COVID19: expect delivery delays or stock rupture

Now available is Reflective ribbon by the yard for 7/8 inch and 1 1/2 inch. Other ribbon widths are available. You don't have to purchase large quantities of fabric anymore. Add to clothing to make more visible.

Increase night visibility for walking, cycling, jogging or running. Wear reflective clothing!

These reflective ribbons are available by the 100 yard roll

Specifications
Color
Available oxford grosgrain ribbon colors are neon lime, neon orange, red, blue, HOT pink, pink, black, yellow, and white
Ribbon Fiber composition
100 % Polyester
Machine wash?
Yes lukewarm water
Viewing distance
3M Scotchlite (tm) 8710 reflects at over 1000 feet
Reflective strip width
Reflective strip is 1/2 inch also available with 1 inch reflective strip
Grosgrain Ribbon width
Ribbon is available in 4 widths : 7/8" 1 1/2" 2 1/4" and 3"
Grosgrain Ribbon length
Ribbon is available multiples of 36 inches for 1 1/2 inch and 7/8 (yard)
multiples of 24 inches for 2 1/4" and 3"